Specification
Power supply voltage
10V~16V DC(For 12V vehicle)
Current consumption of ADVANCE Control unit
(Maximum value obtained when connecting 7 gauges and displays)
+B line: 2A(IGN ON), 1mA(IGN OFF)
ILM line: 5mA
Operation temperature range
-20 ~ +60℃, -4 ~ +140°F(Under 80% relative humidity)
Storage temperature range
-30 ~ +80℃ , -22 ~ +176°F(Under 80% relative humidity)
Applicable speed pulse
2/4/8/16pulse (mainly for Japanese vehicles)
Pulse free setting: 1,274 ~ 16,562pulse/km,
2,051 ~ 26,665pulse/mile(corresponds to 2 ~ 26pulse)
Applicable number of cylinders
1・2・3・4・5・6・8(4cycle)
Dimensions
Refer to part names and dimensions section.
Screen samples
The following images are examples of a display configuration. The display configuration can be set as desired.
Turbo/boost and engine speed can be displayed in horizontal bars.
Main functions
FD has functions such as:
Warning display
Peak value display
Differential pressure display between fuel pressure and intake manifold pressure
Warm-up mode for guarding engine.
Error display of disconnection and short circuit
Shift-up sequential indicator with 8 LEDs
Master warning function
Odometer and trip meter display, and so on.
Please refer to the manual for the detail.
Part names & dimensions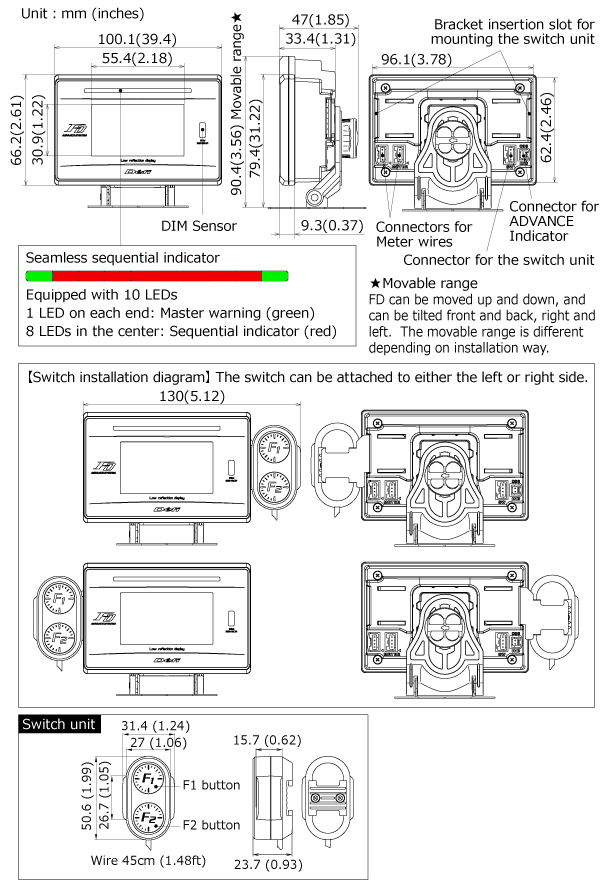 ADVANCE Indicator is sold separately.
Components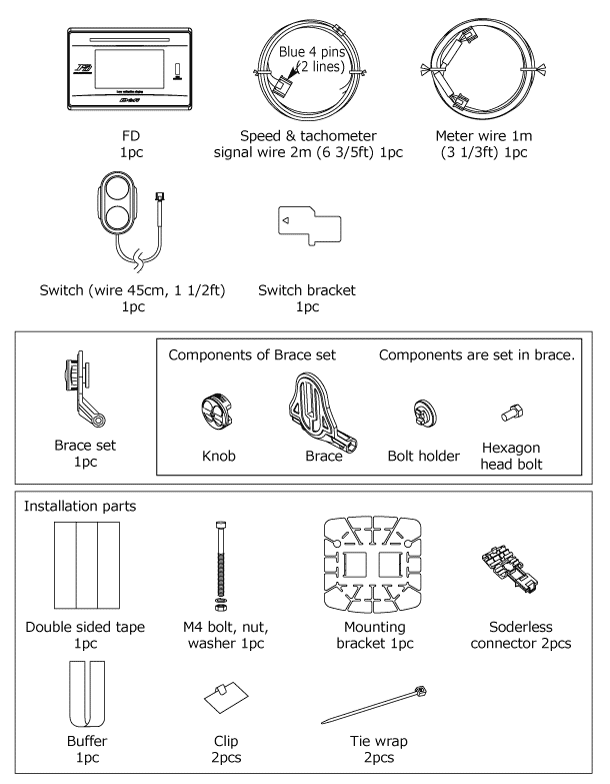 Start guide and a warranty card are included with the parts listed above.