ADVANCE Control Unit Sensor Package
The ADVANCE Control Unit Sensor Package includes sensors and sensor wires for turbo, oil pressure, oil temperature, and water temperature, adding to the ADVANCE Control Unit SE.  The turbo sensor is for 200kPa/120kPa/intake manifold pressure.
This product is a Defi 25th anniversary commemorative model, and is priced more economically than the individual items. 
Product No.: DF18901
Released in January 2023
This product is mainly designed for those who will purchase and install ADVANCE FD in the future, but can also be used for DSDF, ADVANCE ZD (discontinued), and other ADVANCE series gauges.
ADVANCE gauge packages basically include a sensor and sensor wire, but sensorless packages are available for ADVANCE A1 Turbo 200kPa and water temperature.
*Please refer to each product page and manual for specifications.
*This product is for those who have not yet used the Defi-Link ADVANCE system. If you have already installed ADVANCE control unit/unit SE and sensors, please purchase only the necessary products.
*Refer to the ADVANCE System diagram page. 
Components
ADVANCE Control Unit Sensor Package includes the following components: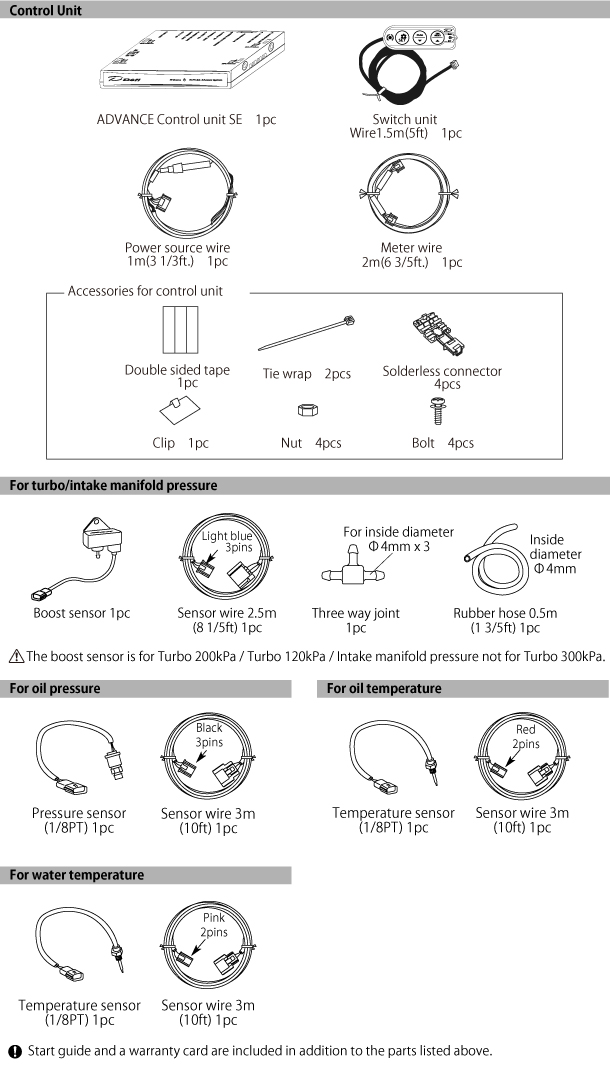 *Please prepare ADVANCE gauges, displays, DSDF, etc. separately.
*Commercially available sensor attachments are required for sensor installation.
*A commercially available three-way joint of a different shape is required separately depending on the car model.