Components
Only 52mm series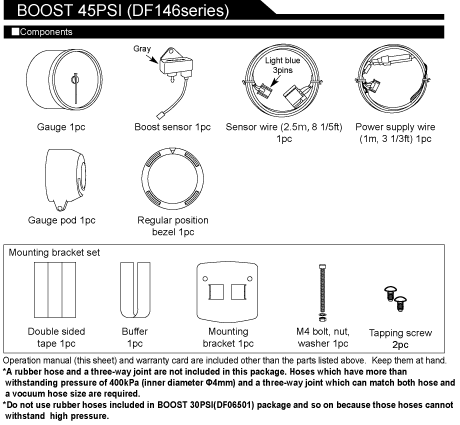 52 & 60mm series

▼What's the difference between 30PSI and 45PSI sensors
There are two variations of the Boost sensors, "For 45PSI (PDF14604S)" or "For 30PSI (PDF06503S).
Please be careful that the body color and the stamp on it are different.
The Sensor Harness (PDF06505H) is common. Please make sure those points before purchasing.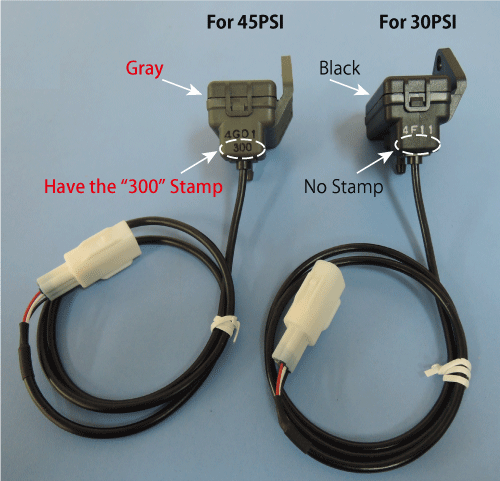 80mm tachometer
The following parts are included with this product. Confirm that all parts are present before installing the product. In addition, these parts are sold separately for part replacement. Contact your retailer for further information.
NOTE: A Japanese operation manual is included other than the parts listed below. They are effective only in Japan.
| | | | |
| --- | --- | --- | --- |
| Part Name | Quantity | Part Name | Quantity |
| Gauge | 1 | Mounting bracket | 1 |
| Switch unit (wire 45cm, 1.48ft) | 1 | Attachment for switch unit | 1 |
| Regular Position Bezel | 1 | M6 bolt | 2 |
| Back case | 1 | Spring lock washer | 2 |
| Mounting band | 1 | Washer | 2 |
| Mounting rubber | 1 | Spacer | 1 |
| Power supply & tachometer signal wire 2.2m, 7.2ft | 1 | Buffer | 1 |
| Indicator (wire 20cm, 7.8in) | 1 | Double sided tape | 1 |
| Operation manual | 1 | Tapping screw | 2 |
| Terms and Conditions | 1 | Solderless connector | 5 |
| Warranty card | 1 | | |