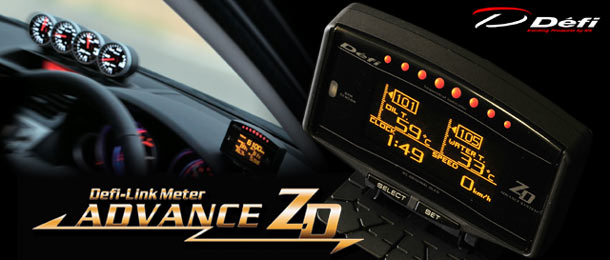 Specifications
Size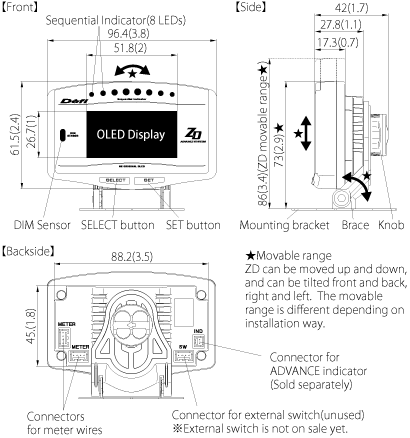 Other specifications
Power supply
voltage
10V to 16V DC (for 12V vehicles)
ADVANCE Control
unit Current consumption
+B line: 2A (IGN ON), 5mA (IGN OFF)
ILM line: 800mA
(Maximum value obtained when connecting 7 gauges and ZDs)
Display color
Illumination color
OLED: amber
Sequential indicator LED: red
Dot size
64 x 128
Applicable speed
pulse
2, 4, 8, 16pulse(mainly for Japanese vehicles)
Pulse free setting: 1,274 to 16,562pulse/km,
2,051 to 26,665pulse/mile(corresponds to 2 to 26pulse)
Applicable number
of cylinders
1, 2, 3, 4, 5, 6, 8 (4cycle)
Note
*Products is for only on vehicles with a 12V electrical system. Never use products on 24V vehicles.
*Products can not be installed in altered vehicles.
*To install pressure gauges or temperature gauges, proper sensor attachments are necessary. The thread sizes of sensors are 1/8PT.
Display range
Speed
0 to 400km/h(0 to 240MPH)
Tachometer
0 to 11,000rpm
OP1※
Oil Pressure (OP1*)
0 to 1,000kPa(0 to 145PSI)
OP2※
Fuel Pressure
(OP2*)
0 to 600kPa(0 to 87PSI)
OP3※
Oil Temperature
(OP3*)
0 to 150 deg C (32 to 302 deg F)
OP4※
Water
Temperature
(OP4*)
0 to 150 deg C(32 to 302 deg F)
OP5※
Exhaust temperature
(OP5*)
0 to 1,100 deg C(32 to 2,010 deg F)
Volt
10 to 16V
Clock
12 hours display
*To display OP1 through OP5 in Display range, the sensor sets OP1 through OP5 need to be purchased separately. (Ex. To display Oil pressure, AD Oil pressure sensor set OP1 needs to be purchased separately.) However, the ADVANCE CR or the ADVANCE BF is already installed, the sensor set is not necessary to be purchased separately.
*ADVANCE ZD cannot display turbo or intake manifold pressure.