Specifications
Size and part name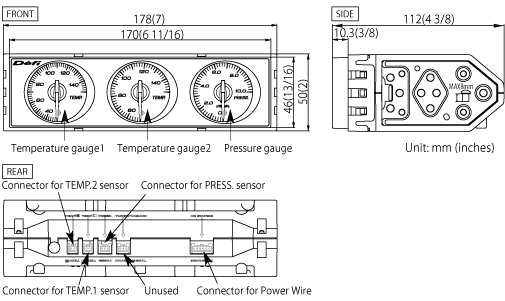 Power supply
voltage
DC10 to 16V(Exclusive for 12V vehicle)
Current
consumption
+B line MAX 0.5A (Dark current 0mA)
IGN line MAX 0.5A
ILM line MAX 0.1A
Dial plate color
black
Illumination color
White/amber red
pointer: red/white
*The illumination color can not be changed.
Display Range
TEMP.1: 30 deg C to 150 deg C
TEMP.2: 50 deg C to 150 deg C
PRESS.: 0 to 1,000kPa
Sensor Thread Size
TEMP. sensor: 1/8PT
PRESS. sensor: 1/8PT
NOTE
*This product is for only on vehicles with a 12V electrical system. Never use this product on 24V vehicles.
*Products can not be installed in altered vehicles.
*Proper sensor attachments are necessary.