Features
Three guages are fitted into one DIN size.
The front cover of the gauge has flat face glass.
Opening and closing mode: The needle pointers of three gauges move sequentially.
The three meters are angled towards the driver for a higher level of visibility. (For right hand drive cars only)
Stepping motor:
*Maximum angle 270degrees is controlled by the microcomputer up to 4,600 divisions(0.059degrees) to provide high precision in the accuracy of information generated.
*Quick response which is sustainable in racing scenes.
Bright transparent gauge dials and instrument needle pointers are used in the gauges to increase visibility at day and night.
The lights are produced from super high bright LED lamps.
Equipped with a peak hold function (Requires a commercially available switch if you use the function. Peak values are reset automatically when power is turned off.  This function is available only in Style21).
Components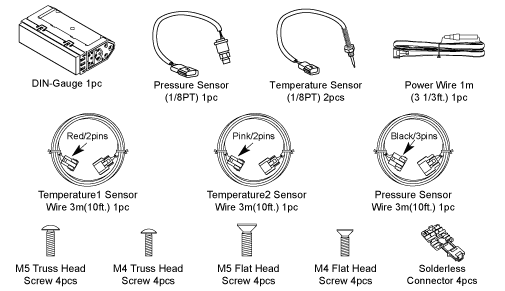 To use the peak hold function of the Style21 models manufactured after 2021, a commercially available 2-pole switch and a pilot lamp are required. Please refer to the manual for details.