Specifications
Power supply
voltage
10V to 16V DC (12V vehicle only)
Current consumption
Maximum during 7 gauges are connected
+B (battery) line 2A(IGN ON), 1mA(IGN OFF)
+ILM (illumination) line 5mA
Illumination color
Control Unit DC Source LED:white
Switch unit:white (while illumination is on)
Switch unit differential pressure LED:blue
Applicable number of cylinders
1, 2, 3, 4, 5, 6, and 8
Illumination input
1) Illumination signal(12V wire while small lamp is on)
2) Illumination control signal range
  frequency range: 50~300Hz
  voltage range: 5~16V
  minimum pulse width: 0.2msec and above
Note
*Products is for only on vehicles with a 12V electrical system. Never use products on 24V vehicles.
*Products can not be installed in altered vehicles.
*To install pressure gauges or temperature gauges, proper sensor attachments are necessary. The thread sizes of sensors are 1/8PT.
Components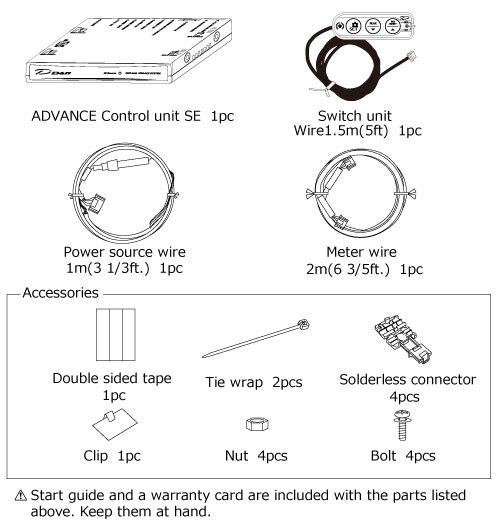 Part names and dimensions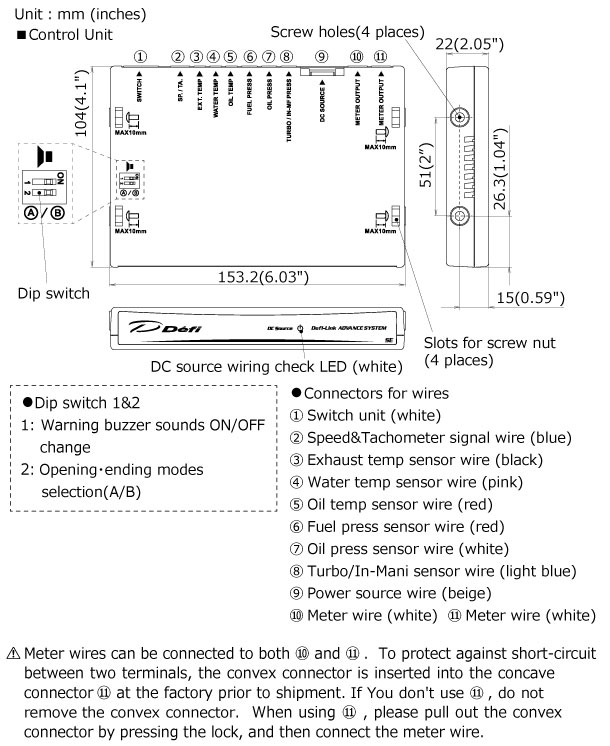 Differences between DF17701 and DF07701/03 series
Product No.
Product name
DF07701
DF07703
Defi-Link ADVANCE Control Unit (EOL)
DF17701
Defi-Link ADVANCE Control Unit SE
Item
DF07701
DF07703
DF17701
DF17702
Appearance
Unit panel design (lower right mark)
None
03
SE/SE BLK
SE SKY
Color of the DC source wiring check LED
Blue
White
Switch panel design
See the figure below.
Function
Three minutes record and replay
Available
Not available
Clock display when ADVANCE FD/ZD is connected
Available in ZD
Not available
Stopping oil pressure warning buzzer ※1
Not available
Available
Illumination control signal input ※2
Not available
(Available with CAN Driver)
Available
※1 Even if oil pressure indicates 0kPa during idling stop, etc., the oil pressure warning buzzer can be prevented from sounding by setting the value to 0kPa with the DF177..
※2 In vehicles equipped with illumination control (vehicles with pulse-controlled illumination signals, such as European vehicles), the ADVANCE CAN Driver is necessary to make the illumination of Defi gauges work properly with the DF077 unit, but the DF177 unit allows the illumination control signal of vehicle to be input as an illumination on/off signal to the ADVANCE system.