Specifications
Size
52mm/60mm series

Unit(mm)

| | | |
| --- | --- | --- |
| Gauge size | 52mm | 60mm |
| A | 58.3 | 66.3 |
| B | 52.2 | 54.6 |
| C | 15.5 | 17.9 |
| D | 68.6* | 68.3* |
| E | 17.8* | – |
| F | 62.5* | – |
| G | 69.6~71.1* | 75.5~77* |
| H | 15 degrees* | 18 egrees* |
| I | 28 degrees* | 32 egrees* |
*With Regular Position Bezel attached
Regular Position Bezel in the picure above is CR's.
80mm Tachometer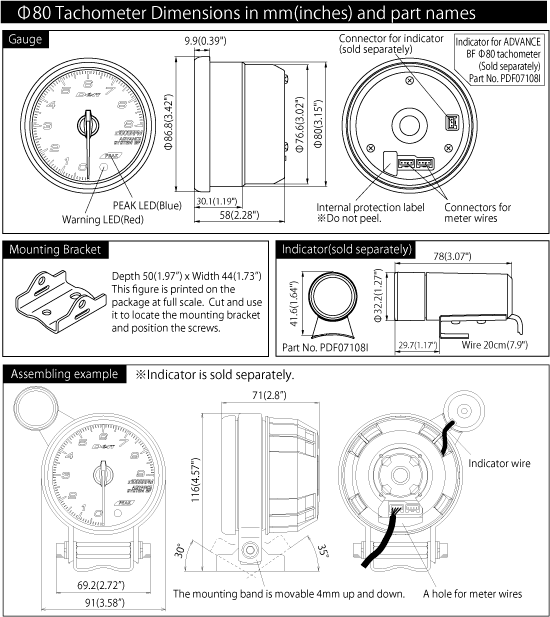 The dial design is ADVANCE BF Tachometer's.
Other specifications
Power supply
voltage
Supplied from Defi-Link ADVANCE Control Unit
Current consumption
Maximum during 7 gauges are connected
+B 2A(IGN ON), 5mA(IGN OFF)
ILM 800mA
Dial plate color
Black
Illumination color
Switchable between classic green and classic white (warm white)
Pointer: red (white during illuminatin off)
Warning LED: red
Peak LED: blue
Display range
Refer to lineup page.

Note

*Products is for only on vehicles with a 12V electrical system. Never use products on 24V vehicles.
*Products can not be installed in altered vehicles.
*To install pressure gauges or temperature gauges, proper sensor attachments are necessary. The thread sizes of sensors are 1/8PT.