Release information of new product ADVANCE FD
The ADVANCE FD, the successor model to the ADVANCE ZD, which was discontinued in February 2021, will be released soon. The shipment from Japan will begin in August, 2022.
The display has been changed from the previous model ZD's in-house OLED to a 2.5-inch full-color TFT for motorcycles that can withstand strong sunlight. The display know-how of the highest-end model Defi Sports Display F (DSDF) has been adopted to this model.
Taking advantage of its compact body, it can be installed casually, and it is also designed to function as a sub-gauge by connecting to the DSDF with linking to the ADVANCE System.
Product information
Product number: DF17801
Product name: Defi-Link Meter ADVANCE FD
*The image is a prototype. It may differ from the specifications of mass-produced products.
Main features
Adopts a 2.5-inch full-color TFT for motorcycles that can withstand strong sunlight.
Uses low-reflection glass inherited from ADVANCE A1 that maximizes the visibility of color TFTs.
By connecting this product to the ADVANCE system, the illumination of ADVANCE gauges is controlled automatically.
Comes with a separate switch that can be attached to either the left or right.
Equipped with a seamless sequential indicator that looks like a single line when not lit. When lit, you can see the boundary one by one.

Display items can be set optionally and maximum 6 items can be displayed all together on one display.
Boost pressure can be displayed in both bar and digital.
Odometer and trip meter can be displayed.
The mounting stay inherits the previous model ZD.
Display items
・Boost and intake manifold pressure (kPa/PSI)
・Oil pressure (kPa/PSI)
・Fuel pressure (kPa/PSI)
・Oil temperature (degree C/F)
・Water temperature (degree C/F)
・Exhaust temperature (degree C/F)
・Tachometer (RPM)
・Speed (km/h /MPH)
・Odometer (km/mile)
・Trip meter (km/mile)
・Voltage (V)
Screen samples
Part names & dimensions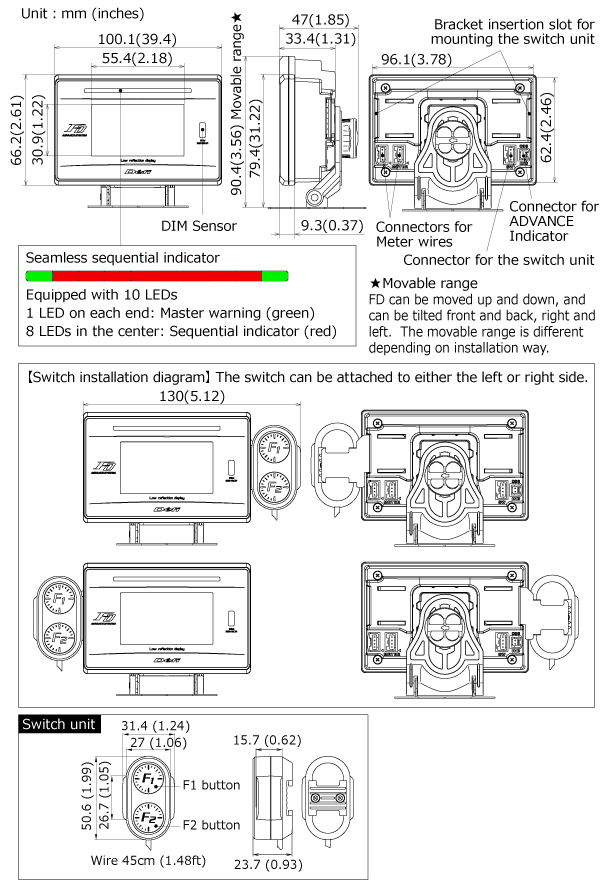 Notice
*ADVANCE Control Unit and sensor sets which are sold separately are necessary to operate ADVANCE FD. 
*Sensor attachments are necessary to attach sensors.  Defi doesn't manufacture sensor attachments.
*Be sure to check the compatibility of your vehicle with the product before purchasing. Defi does not have information about cars sold outside Japan. Contact your local car dealer or Defi official distributor for your area for compatibility.
Our distributors in each area make a pricing decision.  Please ask 
our official distributor/wholesaler
near you about the prices, where to buy, compatibility, and shipping the status.
Defi, Nippon Seiki Co., Ltd.
May 25th, 2022
July 11th, 2022 (Release date has been changed.)